Antelope Canyon Kit

74 1/2" x 74 1/2" finished quilt. Our kits uses the exact gray fabrics on the cover sheet. Fabrics are Textured Fabrics by In the Beginning.


Price

$ 129.00

Quantity:






Iceland Ice Kit

Iceland Ice measures 73" x 86". Includes 29 fat quarters, binding and a FREE book (retails at $27.95).


Price

$ 89.00

Quantity: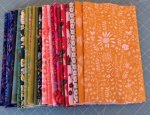 Map of the USA Kit

Includes 23 fat eights hand selected by Emily Taylor.


Price

$ 35.00

Quantity:






Winter Village Kit

Quilt measures 60" x 72". Includes all the fabric for the top and binding and pattern. (Talk of the Town by Amy Ellis).


Price

$ 99.00

Quantity: